Buy Upgraded 250W Motor EU Plug Version
We also offer Replacement Battery sales
Buy Ancheer Original Battery Charger US/EU/UK Plug
Free Shipping & In Stock

 

Now
HIGH-QUALITY MATERIAL: The electric bikes adopt a 100 percent aluminum alloy frame, the front fork is made of high-strength carbon steel and packed with premium comfort shock absorption, and also double layer aluminum alloy 26-inch wheel
BRAKE & GEAR SHIFT SYSTEM: This electric bike with front and rear disc brakes and a 21-speed transmission system, you can choose any speed according to your needs. The perfect brakes fully protect your safety. And the horn and the bright LED headlamp are equipped for night riding
LITHIUM BATTERY & HIGH-SPEED MOTOR: The 36V, 12AH Ion lithium battery of this bike is removable. The bike equipped with a smart lithium battery charger can make you ride up to 15 mph. 500W high-speed brushless gear motors easily assist you to travel at the 15mph road speed limit
2 WORKING MODES: E-bike & Assisted bicycle, you can choose the E-bike to enjoy a long time trip, and also exercise. Combining two modes would be a better choice 
THREE-METER OPERATIONS: There are LOW, MID, and HIGH three meter operations for you to choose. You can easily change by pressing the M key. 
WATERPROOF: Level IPX4 - Is resistant to water splashes from any direction.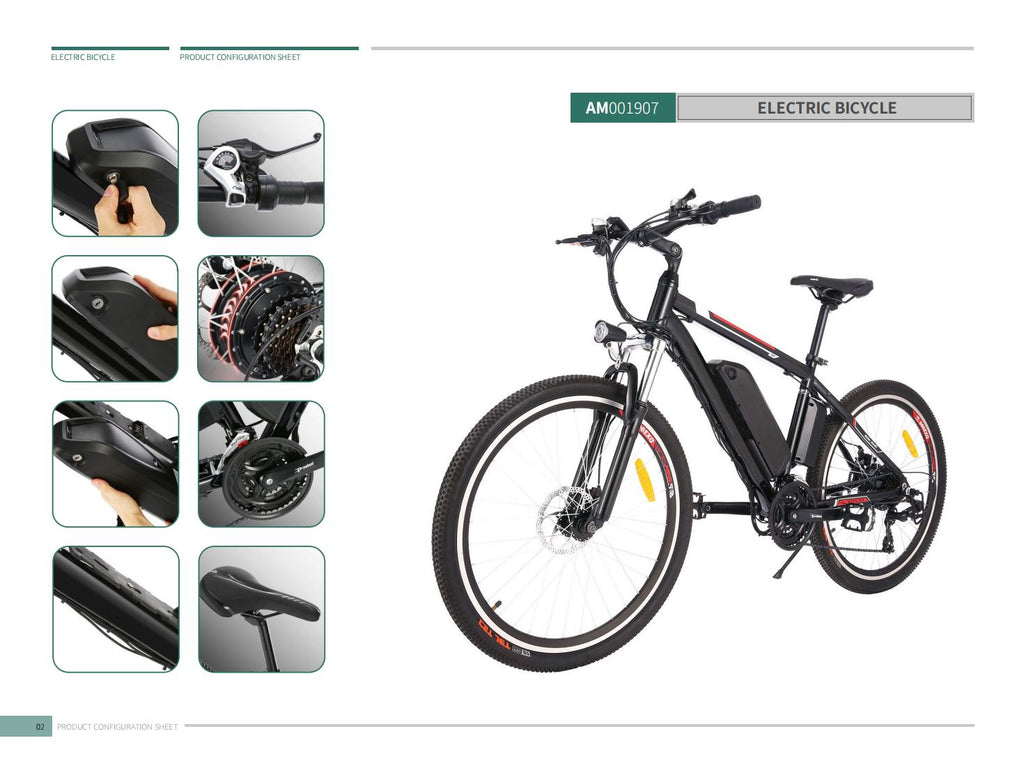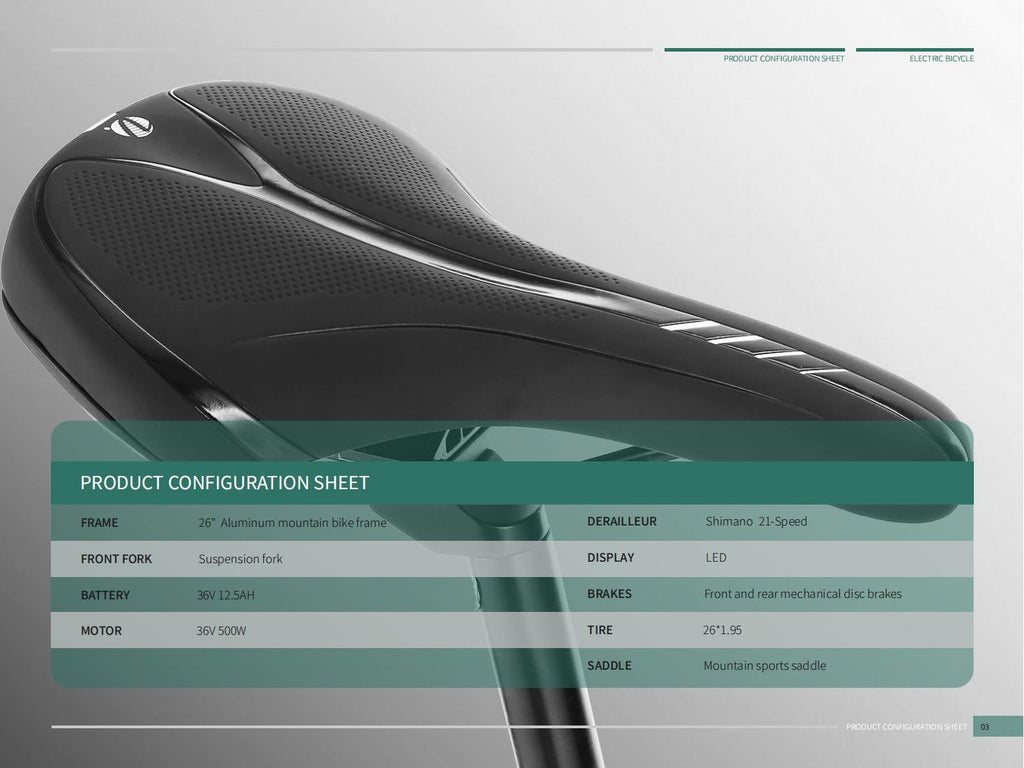 ANCHEER Power Plus Electric Mountain Bike / Road Bike / Men's Bike / Cyclocross Bike with Lithium-Ion Battery
The Ancheer Power Plus mountain bike is not only produced with durable aluminum alloy and carbon steel but also features a 21-speed transmission system for increased customization. Ride it without working the pedals, or choose to assist for an added workout.
A unique combination of 15 mph top speed, off-rode capability, and stealthy frame design with a quiet motor operation that's suited to both urban and trail environments.  It will be your favorite bike you have ever owned.
Specification:
AN-EB001 (Unfolding E-bike):
Full Length: 64.4 inch 
Wheel Diameter: 26 inch 
Seat Height: 30.4-39 inch 
Handlebars length: 26.7 inch 
Package Size: 136*25*73cm 
Vehicle weight: About 20kg 
Battery weight: About 2.2kg 
Mileage: 25-35 miles
Load capacity: 150kg
Recommended age range: 16-60
Maximum speed: 15mph
Type: Mountain Bicycle 
Additional Details:
Front Fork: High-strength carbon steel comfort shock absorption 
Tire: High-quality lithium tire 
Handlebars: Aluminum Alloy 
Lithium battery: 36V 12Ah
Charger: Smart Lithium battery charger 
Motor: 500W high-speed brushless gear motors 
Saddle tube: Aluminum Alloy seat tube 
Meter: 3-speed smart meter button 
Pedal: Aluminum Alloy Pedal 
Headlight: Bright LED headlamp and horn 
Front and rear wheels: Double layer Aluminum Alloy wheel 
Charging time: 4-6 hours 
Features: 1: 1 booster riding, Pure electric riding, Pure human riding
LARGE CAPACITY LITHIUM BATTERY

The removable 36V, 12AH Ion lithium battery, custom battery pack design fits neatly into the downtube but can be charged on or off the frame. Equipped with a smart lithium battery charger can make your ride up to 25-25miles. Easy Charge Port System makes it charge easily.
Front and Rear Shimano 21-Speed gear
Shimano 21-Speed gear increases hill-climbing power, further range variation, and greater terrain adaptability.
Meter Operation Instructions:

1. Press the M key for 2 seconds to turn on/off. The default value is level "low".

2. Press"+" button to increase pedal assist level from "low" to"mid" and "high". Level "High" is the maximum power of PAS, which will bring you faster speed while pedaling.

3. Press"-"button to decrease pedal assist level from "high" to"mid" and"low".

4. Press"-" button till all the three pedal assist level indicators are off to enter into pure electric mode: Just enjoy your ride by simply twisting the throttle.
For Commuting or Off-road Adventures
Built around a lightweight and rugged aluminum alloy frame for performance, efficiency, and durability, keeps the bike easy to maneuver.
A shock-absorbing, front suspension fork can be yours to take your original riding comfort to the next level. You can expect better handling, improved cornering capabilities, and overall smoother riding experience.
BRAKE & GEAR SHIFT SYSTEM:

With front and rear disc brakes and a 21-speed Shimano professional transmission system, you can choose any speed to complete your journey, and perfect brakes fully protect your safety. And the bright LED headlamp and horn is equipped for night riding
Package Content:
1 x Mountain Bike
1 x Battery Charger
1 x  Toolkit
Safety Tips:
ANCHEER mountain bikes are only suitable for road and mountain biking, not for off-road, downhill or extreme sports.
The riding slope is controlled below 10 degrees. When braking the brake, please brake the front wheel before braking the rear wheel.
 Please wear a helmet during the ride.
Shipping
Normally, you will receive the parcel within 4-9 business days after you place the order, compared to 15-25 days for e-bike batteries, 15-35 days for e-bike parts.
Warranty and Guarantee
We have equality warranty and provide after-sale customer service for the product. If any quality issue, please feel free to contact us, we will offer professional instructions and solutions timely.
We guarantee a 1-year warranty. We accept return within 7 days and replace within 15 days if any quality problems.
The warranty period for bicycle accessories is as follows. If the customer finds non-human damage within one week after receiving the goods, we will send the replacement parts free of charge. 
After 1 year, the customer has to bear the shipping cost of the replacement parts. The bike which we sell are factory new regular products, all parts are the same as the original parts.
Warranty coverage
| | | | | | |
| --- | --- | --- | --- | --- | --- |
| Part | warranty period | Part | warranty period | Part | warranty period |
| Frame | 12 months | handlebar | 6 months | battery | 12 months |
| Fork | 12 months | Riser | 6 months | Battery cover | 3 months |
| Bowl ball | 3 months | Folding riser | 6 months | Battery lock | 3 months |
| support | 3 months | Set | 3 months | Battery charging port | 3 months |
| Mud board | 3 months | Front hub | 6 months | charger | 12 months |
| Rear shelf | 3 months | flywheel | 3 months | Motor | 12 months |
| Rear shock absorption | 6 months | Front derailleur | 3 months | Controller | 12 months |
| tire | 3 months | Rear derail | 3 months | sensor | 3 months |
| Spoke | 3 months | Shift handle | 3 months | Front brake | 3 months |
| Brake | 3 months | meter | 6 months | Rear brake | 3 months |
| Central axis | 3 months | Speed ​​control | 3 months | Saddle | 3 months |
| Disc brake disc | 3 months | switch | 3 months | Saddle tube | 3 months |
| Sprocket crank | 3 months | headlight | 3 months | Seat clamp code | 3 months |
One of the following conditions does NOT qualify for warranty:
1 Test and dispose of the vehicle for sale.
2 Products or accessories that are beyond the three-pack period.
3 The user is damaged due to improper use, repair and maintenance according to the instructions of the end.
4 Poor and damaged due to natural disasters, man-made disasters, irresistible forces or chemical attack.
5 For accessories that do not need to be returned, proof materials such as videos or pictures cannot be provided.
6 Damage caused by modification or addition or subtraction of other accessories.
7 It is a vulnerable or consumable item in normal use (accessory coating, inner tube, thread tube, order piece, sprocket, chain, pedal). It is not covered by human injury, damage, normal wear and tear.
Order Cancellation
Customers can cancel their order at anytime prior to shipping; please contact us first. We will help you cancel the order and process to refund you, and the refund takes 5-8 business days back to your account.
However, once the order has been dispatched, the order cannot be canceled, changed, or refunded. Upon receipt of the package, our Warranty and Return policy comes into effect.
Exchange and Returns
If you haven't received the shipping notification, you can cancel or modify this order by contacting our customer service by email. Our customer service will help you cancel or modify the order within 24H after receiving your email. Since the email is not an instant reply, we may find that your order has been sent when we process your email within 24H. In this case, we can only say sorry for that, and we can't help you cancel or modify the order anymore. So please check the order information carefully before placing the order.
If you have received the shipping notification, please note that we CANNOT cancel or modify orders anymore. Therefore, please wait for your package to arrive and you may either keep it or contact us to return for a refund. Please DO NOT refuse the delivery as the undelivered package will be destroyed by the third-party logistics.
You must first contact us and get our written approval before sending any item back. Any product returned without acceptance will not be refunded.
Cut to size items and special orders may not be returned unless it has been determined to be provided in error by Our Company. If the returned goods affect the second sale, our company will be appropriate to charge fees and packaging fees.
Contact US
Email:

service@ancheer.shop

Tel: 00-1-626-333-4255Address: 15650 Salt Lake Ave. City of Industry CA 91745